What are the Petplan & ADCH
Animal Charity Awards?
Petplan and the Association of Dogs and Cats Homes (ADCH) have joined forces for the 12th year of the Animal Charity Awards. The awards celebrate the outstanding work of staff and volunteers in animal charities and not-for-profit organisations across the UK, Ireland and Channel Islands.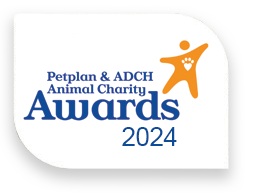 Nominations are now open!
This year we are celebrating the 12th year of the Petplan & ADCH Animal Charity Awards. Nominate Now and tell us exactly what makes your chosen nominee(s) stand out from the crowd or read more about the awards below! Find out more about the ADCH Conference here. Read on to learn more about the awards and how you can get involved!
The Awards
The animal charity awards are a great opportunity to recognise the hard work and dedication put in by the teams and the individuals within the animal charity sector who have gone that extra mile to help rescue and rehome animals in need.
The three nomination categories are:
Animal Charity Team of the Year
Animal Charity Employee of the Year
Animal Charity Volunteer of the Year
Anyone can nominate outstanding charity teams or individuals, from pet owners and fellow charity staff and volunteers, to friends and family. Every nomination remains anonymous and all nominees will be sent certificates to recognise their dedication and achievements; a great way to boost morale!
If you think your charity has staff or volunteers who deserve to be recognised and thanked, nominate now, and promote the awards to your supporter network so that they can do the same!
Share the good work
Promoting the Animal Charity Awards is a great way for you to engage with your staff, volunteers and supporters.
Use the range of promotional tools available to help supporters nominate your charity team.
The winners for last year have been announced. To see who these deserving finalists were click here.